25 Mar

The Key to "Taking" Your Healing

People ask me, after over 40 years of studying healing, "What is the one thing you wish you knew 40 years ago?" I wish I had understood how faith operates when you do not get your healing immediately. It is clear in the Bible, but I had scales over my eyes that blinded me to the truth for many years.

Mark 11:23- 24 says, For assuredly, I say to you, whoever says to this mountain [or says to their sickness], "Be removed and be cast into the sea," and does not doubt in his heart, but believes those things he says will be done, he will have whatever he says. Therefore I say to you, whatever things you ask when you pray, believe that you receive [Greek, 'take'] them, and you will have them.

This reveals to us the key to taking healing.

Believing Before You See

You must take the promises of God before you see them. This is the difference between a healing and a miracle. A miracle is an instant healing and a healing is a gradual miracle.

The promises of God are like seeds in the natural realm. Once the seeds are planted, as long as you do not dig them up and you keep your garden clear of weeds, you not only hope they will grow, you know they will! But we are often prone to digging up the seeds of His promises or we allow weeds to strangle our faith in them. We dig up the seeds of God's promises by agreeing with our symptoms instead of the Word of God. We let weeds strangle our faith in His promises by allowing unforgiveness (Mark 11:25-26) and other unrepented sin to take root in our lives.

By faith, call those things that are not as if they are: God…calls those things which do not exist as though they did (Romans 4:17). This is not just positive thinking.

Rather, as you meditate on God's Word you are speaking into existence His own promises from His own Word. It is not a ritual — it is truly believing in your heart the promises you are confessing. And when you begin confessing and believing His promises, nothing will be impossible for you.

Gateway to Heaven

Have you ever wondered what happens in the spirit realm when we confess and believe God's promises? Jacob described a stairway or ladder to heaven on which he saw angels ascending and descending (Genesis 28:12). Could this be the gateway through which Jesus answers prayer? He told us to pray in Luke 11:2: Your kingdom come. Your will be done on earth as it is in heaven.

I had the privilege of knowing the late Kathryn Kuhlman and seeing her minister. She had the greatest miracle ministry of the 20th century. Kathryn prophesied that after she died, there would be a great outpouring of God's Spirit. This third Great Awakening would be so powerful that everyone in a hospital would be healed.

I see this and even greater works yet to come. I see creative miracles where people will receive new limbs and body parts. You and I will be alive for this Great Awakening that is about to be poured out worldwide. And we won't just be observing. God will move through us as His gateway to bring healing from the invisible world into the visible world.

Are you ready? This is your year to inherit the promises, to walk in your full destiny and to receive your healing. Take it!
---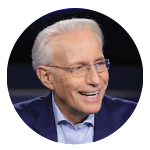 Sid Roth is the New York Times Best-Selling Author of Heaven is Beyond Your Wildest Expectations. He is an investigative journalist who has spent more than 40 years researching and documenting miracles, healing and other supernatural moves of God. He is host of the popular faith-based TV show It's Supernatural! airing internationally on Daystar and TBN. He also hosts the Messianic Vision web radio show.
The Healing Scriptures Experience contains the most powerful promises of God for healing personalized for prayer and application over your life. Begin your Healing Scriptures experience now.
Learn More