30 Jan

Does God Still Heal Today?

For the past 40 years, I have devoted my life to studying the supernatural as it applies to God. This includes investigating people who have experienced incredible events like visions of heaven, angelic visitations and miraculous healing and interviewing them on my TV show, It's Supernatural!. Without fail, one of the most frequent questions I get asked about healing from viewers of the show is whether God still heals today.

My answer to the question of whether God still moves in healing and miracles is a resounding yes! I have witnessed people being healed of all manner of sickness, injuries and even spiritual/mental problems. In fact, God promises in His Word, "You can pray for anything, and if have faith, you will receive it" (Matthew 21:22, NLT).

God's Promises Are for You Today

In the Bible, God declares that He is unchanging, everlasting, the same yesterday, today and forever (see Malachi 3:6, Hebrews 13:8, Psalm 90:2). These declarations are just a few of the many promises from God found in His Word.

One of the most powerful promises in the Bible comes from Mark 11:23-24. There, Jesus says, "For assuredly I say to you, whoever says to this mountain [or says to their sickness], 'Be removed and be cast into the sea,' and does not doubt in his heart, but believes those things he says will be done, he will have whatever he says. Therefore I say to you, whatever things you ask when you pray, believe that you receive [Greek, 'take'] them, and you will have them."

If God promises to be unchanging, then all of His promises are just as true today as when they were written.

The Bible contains many promises of God for healing. Those promises are for you to take and claim over your life today.

Let Your Healing Begin

My favorite way to interact with God's Word is to meditate on it and confess His promises over my life.

For my own personal study of the Bible, I handpicked my favorite Scriptures and promises from God on healing and collected them into one large list of healing promises. I then personalized those handpicked promises so that I could pray them over my life.

I am excited to finally make my personalized, handpicked healing promises from the Bible available to you with The Healing Scriptures. You can take The Healing Scriptures with you wherever you go and use it to confess God's promises for healing over your life. I also included a section that will teach you how to meditate on God's Word and also a Q&A section where I answer the most common questions on healing and miracles.

I say to you: When you begin confessing and believing God's promises, NOTHING will be impossible for you. Get ready! Your healing starts now.
---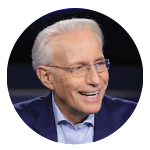 Sid Roth is the New York Times Best-Selling Author of Heaven is Beyond Your Wildest Expectations. He is an investigative journalist who has spent more than 40 years researching and documenting miracles, healing and other supernatural moves of God. He is host of the popular faith-based TV show It's Supernatural! airing internationally on Daystar and TBN. He also hosts the Messianic Vision web radio show.